Since going into business for myself, some patterns have changed for me. The statement "I don't really do that" has changed more frequently to "Sure, I'll do it!" It's not only a part of accepting more types of work to give LWP traction, but it's been exciting in the way of professional development and expanding my skill sets.

When our friend Tony asked if I would take his daughter's Senior Portraits, the first thoughts that popped into my head were: "Mehh, I don't know"
"I don't have a hundred backgrounds and props like some studios have"
"I'm not sure I'm in touch with what the kids today want"
Tony quickly stated that they just wanted some nice shots outdoors somewhere. He even showed me a couple of great locations to use. Further, he said their daughter Alyssa would be a good subject and is comfortable around cameras. I agreed to take the gig. I had been looking for an opportunity to use some new portable lighting and radio triggers, and
now I had a good opportunity to put them to good use.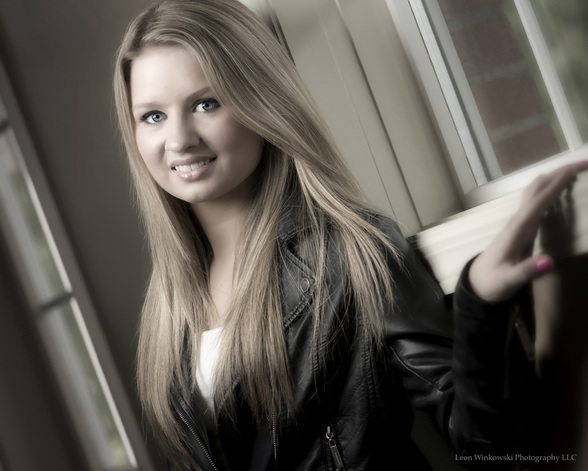 When Tony and wife Cathy arrived with daughter Alyssa and a couple of outfits, we quickly got to work with some preliminary shots. Quickly establishing a rapport, everyone got comfortable. The quicker that happens, the quicker some lovely shots begin to happen. We began indoors, blending natural light with portable strobe light. It didn't take long to realize that Alyssa was a very natural subject and took interest in the process as well.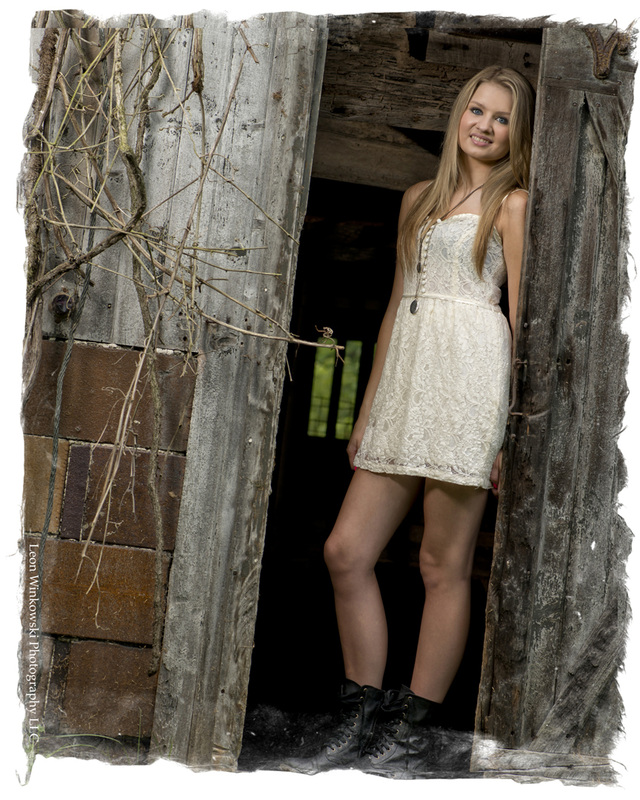 Next we went over to the old barn. Personally, I love rustic places with a lot of texture so I was eager to see what we could come up with. We were blessed to have day with mostly good light. Where there wasn't good light, a photographer has to make it happen, and make it look natural. I tend to get excited when good shots are made and I often share them with the subject and parents right as I take them. I guess I can't help myself and don't want to wait until later. This can put the subject in a great mindset, knowing that we are indeed getting great shots!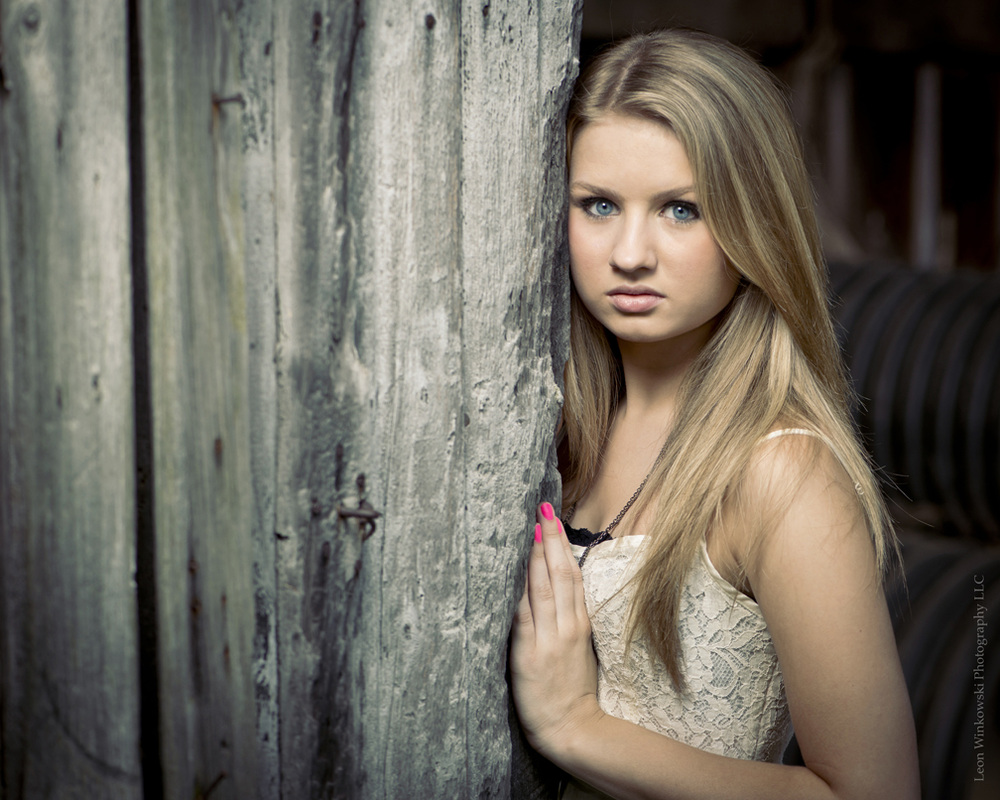 I started mixing it up, changing lenses, moving in, moving out. So many things were working well that it motivated me to keep trying more. The barn was great! A photographers playground, to be sure. And a willing subject who photographs well makes it even better.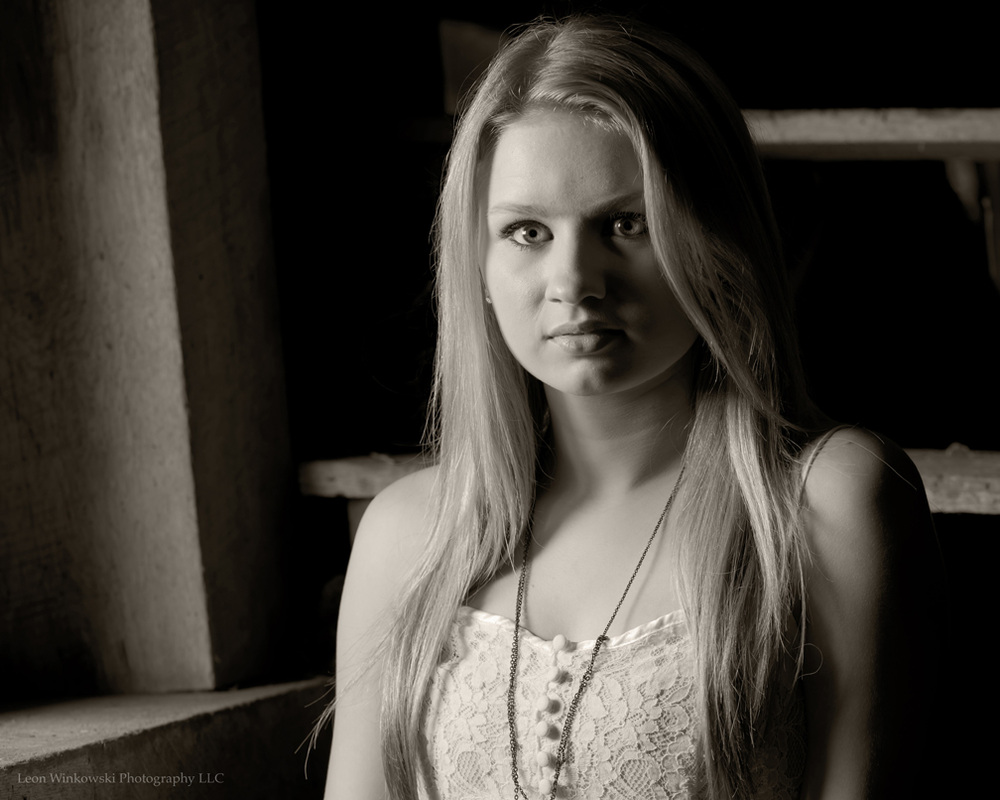 Alyssa was a great sport, even when I asked her to carefully step into the dark barn and sit on some dusty old steps next to a small window. I was tempted to use some flash fill, but I wanted to get a couple of contrasty shots too. The more looks and lighting styles, the better. When I was a senior, we stood on a line and got one flatly lit shot, and you were done.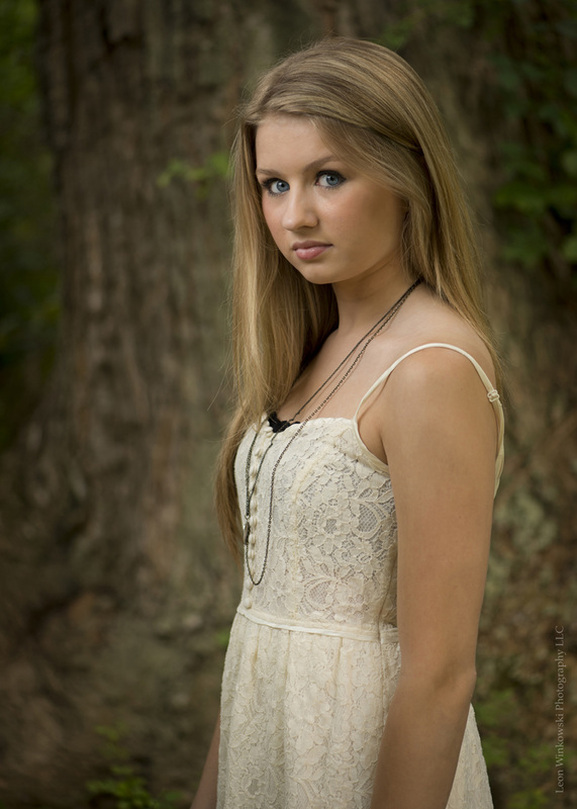 We were all feeling good about the shots we were getting and it seemed like we were wrapping up. I often look at it this way. You're all there. The photographer, camera and model are all warmed up, so why not take a
few more
scenes?
I can't tell you how many times in the past that when I push just a little bit further, it almost always results in shots that end up being some of my favorites. So I have pretty much adopted that as a best practice, regardless of who or what we are shooting. It's good to trust your instincts!
I had Alyssa strike a serious look in front of a large old tree. If I remember correctly, her mother may have mentioned why she wasn't smiling more. I love smiles as much as the next person, but some subjects can really pull off the serious look so I took many that way.
Additionally, the soft lighting and wonderful bokeh of the lens made the background of this shot look. Photographers know what
bokeh
means but in case you don't, it's basically how certain lenses can produce a lovely dreamy softness in the background at wide apertures. Clink the link if you're curious how to pronounce it.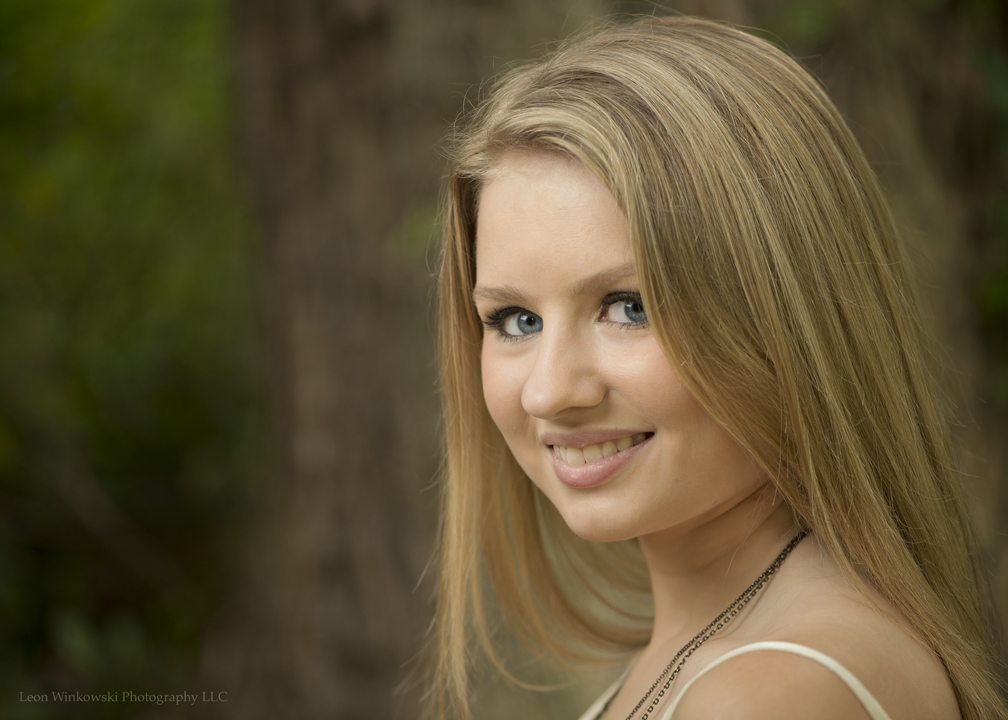 Often when you are thinking what shot to do next, your subject subconsciously lets you know. Between posing, people will often relax in a certain stance, or make a movement, or expression...something that is just naturally "them". I think it's key to recognize that when it happens and be ready to grab that moment. And yes, she does have a beautiful smile too!
I will be doing more of this kind of work since I really enjoyed it. If natural settings are what you are looking for and you think my style suits your tastes,
contact me
to arrange a shoot. And by all means, if there is a location that you like or has special meaning to you, let's go there and capture some great portraits! And not just Seniors... Couples, Families, and Individuals who would like to have a photo session, are encouraged to contact me. I've even done pets, which may be an upcoming newsletter.
If you are new to the blog or newsletter, please take time to look around the blog and
website
. I also have a new
Facebook
page for the business. If you haven't already, I would greatly appreciate if you look through the photos. Please LIKE and SHARE the page as that is one way I get my work seen. I have been a commercial and corporate photographer for 26 years and have done many kinds of work.