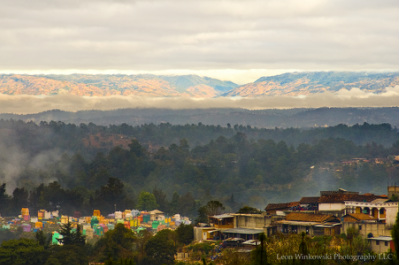 The Cemetary seen from another hill
In an earlier article I indicated that the Guatemala trip was just too big to cover in one post so this second part covers one of the most interesting places we visited. The cemetery in Chichicastenango is an amazingly beautiful and fascinating place to visit. As much as I wanted to hear our host telling everyone in the group all about the place, I was blown away by the beauty so I devoted my time to making some photographs, pretty much constantly lagging far behind. As luck would have it we visited in late afternoon light which was beautiful. With very limited time, I quickly snapped shots and tried not to get too far behind the group.


The cemetery in Chichicastenango sits on the hill outside of town as many do in other countries. This place is a blend of Christian and Mayan cultures and burial ceremony styles. Grave sites range from the above ground crypt type structures you see above to shallow mounds of dirt with a simple cross, which show the range from rich to poor. The range of colors is breath taking and shows how they celebrate death as much as life.
The remains of loved ones in shallow graves don't appear to be deep at all. Throughout the cemetery you will see the sooty remains from burnt offerings, usually chickens, to pay homage to the dead. Ceremonies in the cemetery can be seen with Mayan Shaman or Catholic priests. The people of Guatemala are a very faithful people and like Mexico and other Central American countries they celebrate the life of the deceased differently than we do, and do not fear it. A very important holiday is Dia de los Muertos, or Day of the Dead which is marked with picnics, parades, even fireworks as death of loved ones is celebrated.
One memorial seemed odd in it's layout and design as it looked like something a little boy might play with his Matchbox cars on. We were told this is a monument to the commercial drivers who perished while bringing food and supplies across often deadly mountain roads. We got to travel some pretty scary roads and on more than one occasion our driver showed us sites where truck wreckage lie at the bottom of a several hundred foot drop off a road with no guardrails and a loose berm. I was amazed at how carelessly trucks and the so called "Chicken Buses" drove, not slowing down for curves, pedestrians, or oncoming traffic.
As the quick tour of the cemetery was ending, the best light of the day was beginning. Photographers call it "magic hour" and often use it to capture remarkable vistas while the color of the light gets warm and the shadows lengthen before succumbing to darkness. This visit to the Chichicastenango Cemetery, while fast paced, is something I will never forget and it was a blessing and a privilege to capture some images of this place.
To me, this photo series is a celebration of both life and light. Thanks for checking it out.
If you haven't already, please check out my new Facebook page for my
business
and of course please "like" and "share"